Toshiba: DC motor driver with on-chip LIN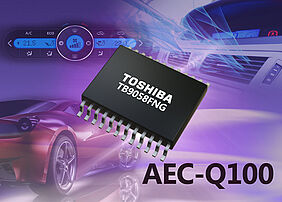 The DC motor driver with an on-chip LIN interface is suitable for heating, ventilation, and air-conditioning (HVAC) damper control drivers. The Japanese chipmaker has started to ship engineering samples. Mass production is planned to start in December 2019. The DC motor driver complies with LIN 2.0 and is AEC-Q100 qualified.
The IC receives the position data of the motor rotation target via LIN and drives the motor to the rotation target. No software development is required, as the IC has the hardware logic of a H-bridge motor driver and LIN communication function with enhanced checksum. It can detect over-voltage, over-current, and over-temperature. The product is specified for operating temperature ranges of -40 °C to +125 °C as required for automotive applications. It is AEC-Q100 qualified.