Vehicle switch cluster communicates via LIN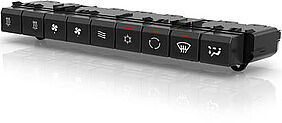 N was specially developed for demanding vehicle control applications. The LIN switch panel and individual universal switches join EAO's rugged CAN keypads, joysticks, and modules in its Series 09 portfolio of products. They principally target driver/operator control applications in trucks and buses, and in specialist vehicle adaptations such as fire engines, cranes etc. According to the company, the products are easy to integrate and enable reliable vehicle driver control.

The nine-switch LIN sub assembly is connected up before being clipped or screwed into position. Application flexibility is further assured thanks to the configurable switch assignment that allows a range of back-illuminated ISO 7000 or custom symbols to be configured to meet individual vehicle requirements. EAO Series 09 switch panels can also be ordered with optional red status indicators.

According to Robert Davies, EAO's UK Marketing Manager, LIN was specially developed for E1 vehicle applications and has been integrated into the company's latest switch products strictly in accordance with IATF 16949 specifications: "Our new LIN bus switch panel is a convenient and speedy way to commission in-cab control of - typically, driver/operator comfort features such as in-cab ventilation, air conditioning, and seat heating but also of important security functions such as reset, lock and unlock - in numerous off- and on-road vehicles", Davies said.