Elmos: Controlling flicker-free LEDs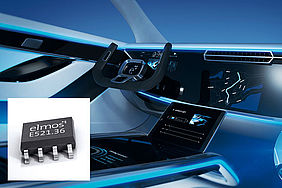 The 16-bit MCU features a 32-KiB non-volatile memory and a 128-byte EEPROM. It can be programmed with the IAR's software development environment. The addressing in the LIN network takes place with the integrated BSM auto-addressing (bus shunt method). Furthermore, the MCU has three current sources, each with up to 40 mA and three 16-bit PWM generators. The 48-MHz PWM clock ensures 16-bit color resolution at a 732-Hz repetition rate, enabling flicker-free applications and meeting all known OEM requirements. The MCU with LIN interface comes in an SO8EP package.
Possible application is the ambient lighting in the vehicle interior. For power management and temperature compensation, the IC has an integrated temperature sensor. In addition, a differential measurement of the LED voltage can be performed with the A/D converter and thus effective temperature compensation can be achieved.
Auto-addressing is a method of assigning addresses to LIN nodes. All the necessary development and diagnostic tools are already in the field for this process. The method used is based on passive components in the LIN line and offers fault tolerance, e.g. at "Loss of Ground". This allows LIN applications, which do not know the BSM procedure to be integrated into a system. Each application is also reachable during the addressing of the participants. Broadcasts can be sent to all nodes at any time. Through a simple software implementation in the LIN slave, the LIN master can make the address assignment plausible. This unique feature even allows addressing to be diagnosed.