Multi-channel RGB controller: With 24 LED drivers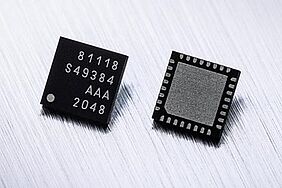 The RGB controller provides 24 LED drivers suitable for ambient lighting applications. The LIN interface is compliant with LIN2.x and SAE J2602 standards. It also claimes ISO 17987 series compatibility and supports auto-addressing, but does not have a LIN-supplier ID assigned by CiA. The chip complements the MLX81115 and MLX81113 predecessors to address various applications. In these applications multiple RGB LEDs need to be controlled via one LIN node within one or several modules, for example, in door trim parts or dashboard applications. The multi-channel support means that the MLX81118 is also suitable for light animations controlled via LIN.

The MLX81118 has been developed according to ISO 26262 and supports safety-related system implementations up to ASIL-B. To accelerate application development, a complete toolchain including evaluation board, in-circuit emulator, and C-compiler package is available on request. Essential software including LIN driver, color mixing, math library, and IC initialization routines are also provided.